Awkward
- This notice sent out by the University - "
The University Safety Council would like to remind the community that it is breeding season for geese. Take the following precautions for safety:
During breeding season, geese are protective of their nests and eggs
. Avoid areas where geese are nesting or have been known to nest. If you come upon a goose or her gander, move quickly out of their way while facing them
(do not turn your back to them)
." - This seems
unnecessarily
intense for geese.
- Lastpass is failing today and making it very difficult for me to do anything.
- Switching primary gmail accounts. Why do they make it so difficult?
- Not being able to find one Mother's Day card in Spanish in all of Jax.
- Today is Cinco de Mayo. Who's ready for a party? Me, Me!
- Last night, when I got home. Dinner was cooked, dessert waiting in the fridge, and fresh flowers on the counter. What more could a girl ask for?
- Lou is home from his business trip. He's all mine. I have also decided, I'm never sharing him again.
- Finally made a facebook fan page for this little bloggity-blog. Check it out! I'd love it if you did :)
- Managing to send you the Mother's Day cards before Sunday.
- I have been working on the new blog layout. How do you like it?
- I have a surprise for you all tomorrow. Excited? I know, I am.
- This comic. It explains how I feel about style so well. And what I think we all strive for.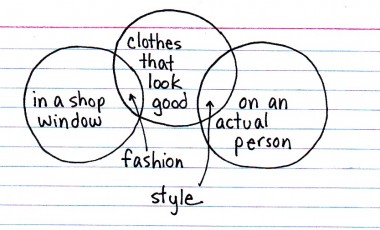 For more Awkward and Awesome, check out Sydney's -
The Daybook