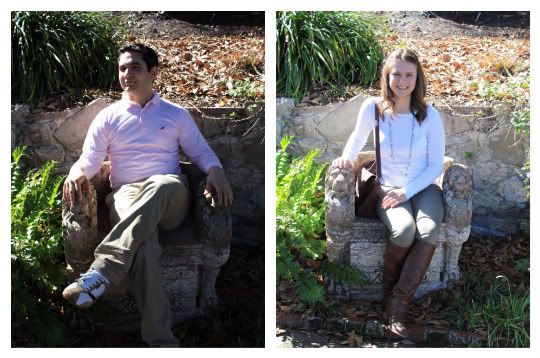 Me: Shirt: American Eagle, Pants: F21, Boots: Famous Footwear, Purse: F21, Necklace: F21
Lou: Shirt: Thrifted, Pants: Gap, Shoes: Famous Footwear
Just a couple of weekend updates:
My cousin came for a visit last weekend. We had an amazing time. So much fun. But the computer decided to quit on us this weekend and we are not sure what's wrong. Lou keeps talking about a power supply, sounds like craziness to me. So until it gets fix, I am using the netbook for blogging. Which, is a lot harder than it sounds. No mouse, no programs, the color is off, just over all difficult.
What does all this mean to you? I can't post the outrageous photos my cousin took of us because, well, it's just too hard. And yea. But I promise them at a later date. In the mean time you get a sneak peek at us in a glorious lion chair from a museum we visited.
Also, the mouse pad on the netbook is overly sensitive. Making even typing difficult. If I don't make a continuous effort, the side of my thumb hits the pad and sends the cursor to inconvenient areas. So, please excuse any typos.